Rochester High School
Class Of 1963
June 13, 1963
We had 264 names on the graduation list. Three of that number had earned the right to graduate through the Armed Forces or night school. (see clippings)
Joining us for the first time?
1. blue column on the left; classmate profile
2. locate your name and fill out information
3. This is a secure site. You decide how much information classmates see.
4. Having a problem? Again, in the blue column is a "contact us".
We have lost another beloved educator.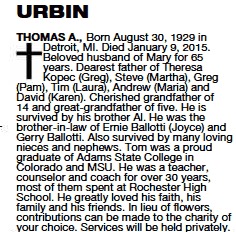 Our classmate, Dennis Austin passed away in Tennessee on January 15 of cancer. Funeral Arrangements have not been finalized as of yet, but I will post them when I know what they will be, in case anyone is interested.