Rochester High School
Class Of 1963
June 13, 1963
We had 264 names on the graduation list. Three of that number had earned the right to graduate through the Armed Forces or night school. (see clippings)
Joining us for the first time?
1. blue column on the left; classmate profile
2. locate your name and fill out information
3. This is a secure site. You decide how much information classmates see.
4. Having a problem? Again, in the blue column is a "contact us".
-------------------------------------------------------
Survey concerning 55th class reunion is on the left under the blue column.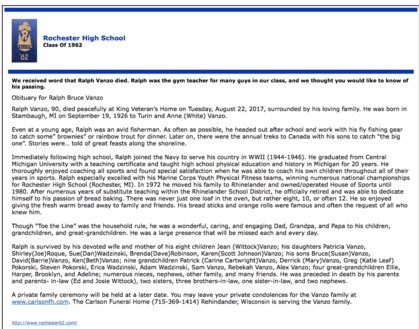 Video taken in 1959:
Bill "thinks" this video was taken at Sue Ludwig's house in 1959. Our thanks to his nephew's son and friend who worked with this enough that we could view it.
Bill's comment: "Many of the faces you see, unfortunately, are nolonger with us."
ANNOUNCEMENTS
•
Anna Kettelson lives in Santa Rosa, California. There is a raging wildfire that has destroyed thousands of homes and businesses with almost 0% containment. As I live just 45 minutes south of Anna, I have tried to contact her to offer whatever I can but to no avail. If anybody knows of her whereabouts and how she might be contacted, please contact me at:
dmkostecki45@yahoo.com
Thanks,
Dennis Kostecki
Sausalito, California

•

Margie and I are okay after the storm, we had a lot of tree damage and lost s few shingles but that is it. We are however, without power still. That part is not fun.