Rochester High School
Class Of 1963
In Memory
Jim Dunseith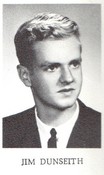 died: February 14, 2006

Information supplied by Tom Dunseith:
Jim's cause of death was cancer. He lived in Iowa for the last 25 years of
his life. He was married about 15 years but was divorced at the time of his
death. Jim had no children. Jim worked most of his life for Kankakee Nursery
Company which is based in Illinois. At the time of his death he was sales
Rep. covering the Central region of the United States. Our Parents died in
the late 80's and a sister died in 2009. The 3 remaining siblings are Steve
Dunseith (Rochester Hills, Mi), Mary(Dunseith)Nowels (Rochester, MI) and
Myself Tom Dunseith (Macomb Twp., Mi).