Rochester High School
Class Of 1963
In Memory
Neil Parker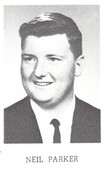 Neil died of adult onset leukemia in 2009.
Neil graduated from Oakland University with BA and from METHESCO (Methodist Theological Seminary of Ohio) with MDiv. Served in Livonia Michigan for a couple years then moved to Ohio where he served in Etna and Johnstown. He and wife Jane moved to Florida. Neil served his last church in Islamorda, Florida Key, retired from the ministry and became a university academic advisor. He stayed at Florida Gulf Coast University in that capacity until his death in 2009.
Neil has two sons, both married with children. Both sons live in Baltimore.
Glenn Parker
brother